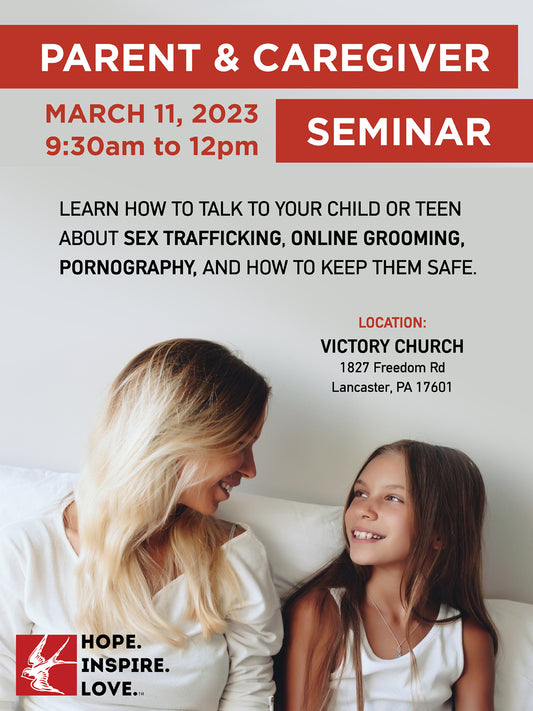 Parent & Caregiver Seminar
Description

MARCH 11, 2023 - 9:30am to 12pm

Join us for a morning of awareness and education as you learn how to talk to your kids and teens about sex trafficking. In this seminar, we will be discussing signs and key indicators of human trafficking, recruitment strategies, online grooming, apps/gaming and social media, vulnerabilities that may lead to trafficking, and an in-depth look at who the traffickers are and how they operate. You will also learn how pornography fuels the trafficking industry, how to have age-appropriate conversations with your kids, and how to report suspected cases.

If you have kids/teens between the ages of 5 through 21, we strongly suggest you join us for this seminar.

Location: Victory Church - 1827 Freedom Rd, Lancaster, PA 17601

The seminar covers several relevant and critical topics:

Internet safety & how predators use it to exploit young people
Sexting, sextortion, and red flag phrases
Pornography and how it fuels the trafficking industry
What is child sex trafficking?
How does trafficking happen?
Online apps to be aware of
Who are the traffickers?
How can parents keep kids and teens safe from trafficking?
Methods of preventing abuse and exploitation
Learn the signs of trafficking
What can parents do if they are concerned a child is being trafficked?
Learn action steps for how to respond to and prevent sex trafficking.
How to have age-appropriate conversations with your kids/teens about the issues and safety/prevention

* Snacks and refreshments will be served.

ABOUT HOPE INSPIRE LOVE
Hope Inspire Love is a nonprofit organization that provides trauma-informed mentorship, prevention education, and outreach & awareness opportunities. Click here to learn more.